4 core proprietary
technologies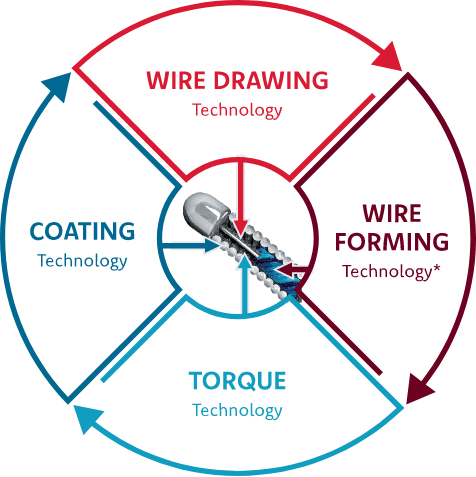 Integrating Four Core
Technologies to
SHAPE THE
FUTURE
OF MEDICINE
The four core technologies are integrated in all of our products and serve as the foundation of ASAHI technologies. With these technologies, we will work with physicians who strive for a safer and certain operation to contribute to the medical field.
1. WIRE DRAWING TECHNOLOGY
Wire rope- the base of all products
The wire ropes used to from the cores and coils of guide wires, and also braids used in catheters are made with our wire forming technology. By managing tiny parts with micron-level holes in them, known as dice, on a thousandth of a millimeter standard, these high-quality parts that are the fundamentals of all medical devices are created.
---
2. WIRE FORMING TECHNOLOGY
The wide application of processing technology
Guide wire coils and braids in microcatheters are made from the wire forming technology. Durability, wire strength, and torque performance of our products are made possbile by the application of these parts that are formed on a micron level.
---
3. 1:1 TORQUE TECHNOLOGY
Controllability brought by excellent torque performance.
ASAHI original processing facilities and torque technology enables high torque response in guide wires and catheters. The controllability of our products have a high reputation in the market.
---
4. RESIN COATING TECHNOLOGY
Optimal lubricity according to their uses
To give the guide wires and catheters optimal slipperiness and chemical resistance, we provide various types of coating processed by extraction, wiping and dipping.
ACT ONE
This is a multi-wire coil using our core technologies for wire drawing, wire forming, and torque.
ACT ONE optimizes the balance of torque force, torque response, durability, and rigidity in guidewires and microcatheters for high performance.
Torque Force
XTRAND
This is a hollow coil which is formed by using more than one rope each made up of multiple strands.
The difference from a single coil is that extension in the longitudinal axis direction is small and the strength against tension is high. This coil was developed to avoid fracture and intravascular persistence of the wire even if the tip of the guidewire is caught in endovascular tissue. Also, the XTRAND is characterized by its high flexibility in the transverse axis direction, high torque response, and high torque force.
Coil extension

Strength against tension